IRC stands for Internet Relay Chat. In lack of better in game chat Shadow Era players use this to communicate with other members of community. It is handy for sparing, tournament matches or just chit-chat. This guide will show you how to join Shadow Era related chat rooms.
PC users
Easiest way to get on IRC is to use this handy site which has split screen with game on the left and IRC on the right: http://shadowera.gondorian.com/gamechat/
(for test server use this link: http://shadowera.gondorian.com/testchat/)
To join us you should fill in the fields. For example:
Nickname: YourNick
Channel:  #shadowera
Type in what is written in reCAPTCHA window and click connect.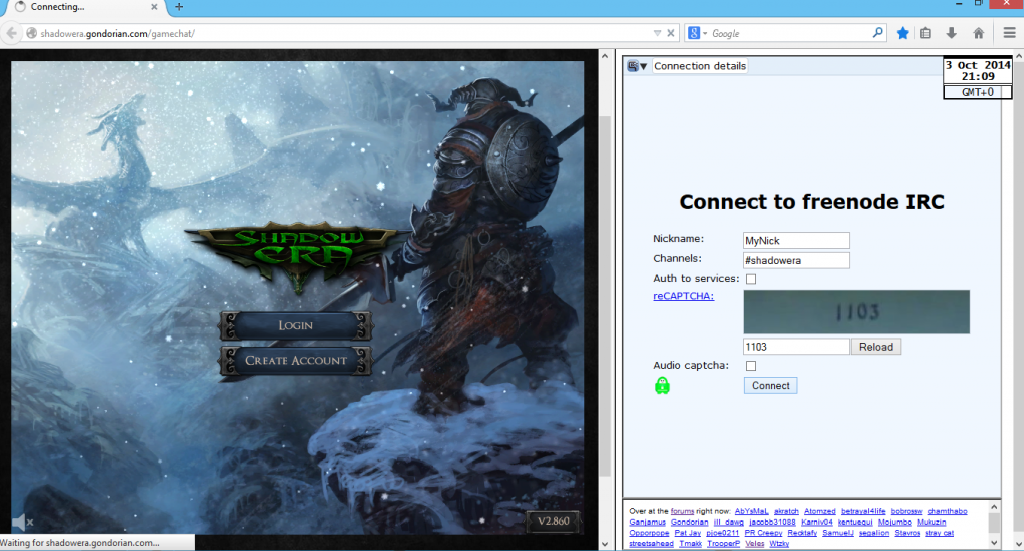 And that's it. You are in chat room for Shadow Era. If you want to join channel used for tournaments you need to enter following command in text box:
/j #tournament
And you are there. If you want to go directly to tournament room you can put #tournament instead of #shadowera in Channel box.
In case that for some reason you want to have IRC chat in a separate window, you can do the same thing on this address: http://webchat.freenode.net/
While there you will see list of people who are online on the right. If you want to send a private message to one of them you can click on their name. This will show query option and clicking on that will open separate room with their name on. That one can be used for private messaging that can't be seen by others.
There are also many standalone apps for IRC like mIRC, xChat, Chatzila, Pidgin. You can google how to set them if they seem more useful to you. Important  information for setting it up is name of the server: Freenode and address of the server:  chat.freenode.net
Android users
I use AndChat. It does its job so I can recommend it. You can download it form Google Play Store and it is free.
Picture Guide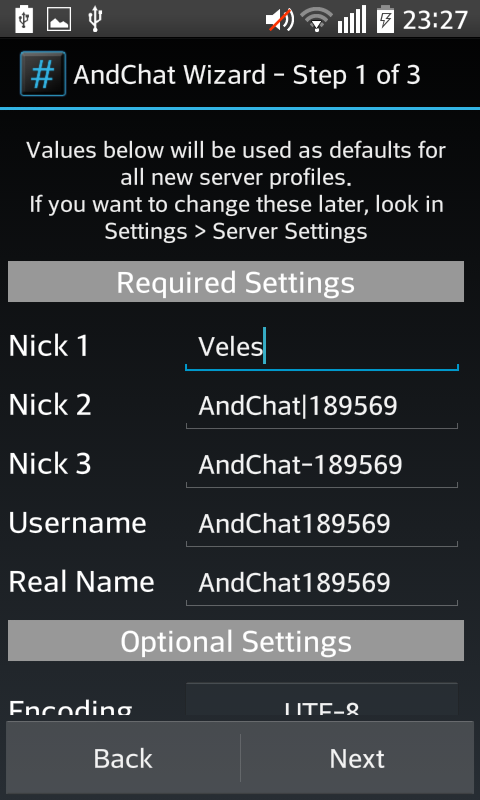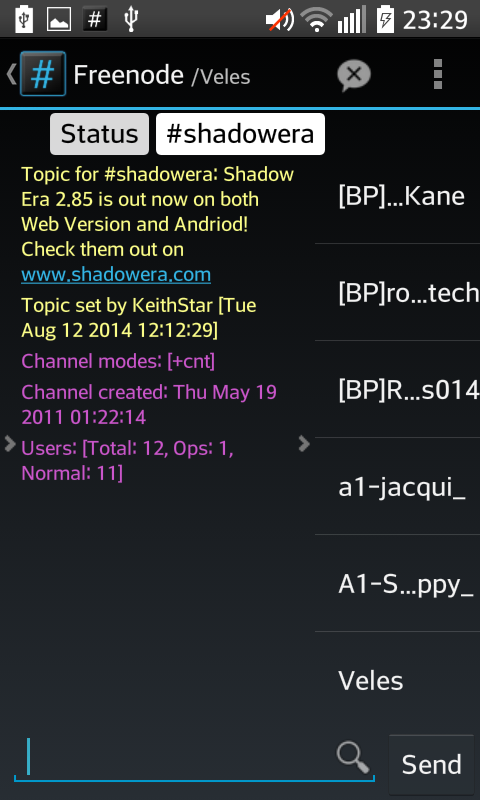 Advanced Guide
Once you are in the app you should see list of available servers. Freenode should be on the list. By long pressing Freenode it should open menu. Press Edit. Fill in missing fields:
Nick 1: YourNick
Nick 2: YourNick2   (You only need first one. 2nd and 3rd one are just in case of disconnects or if that name is already in use or just for lols)
Username: YourNick
Real Name: YourNick
Autojoin List: #shadowera (this will save you from typing /j command every time you connect)
And then save changes. Now back at available server list clicking Freenode will automatically connect you to #shadowera
To disconnect click on x button on top right corner.
In case Freenode is not listed you can add it. Press + on the top to add new server. In server details fill in:
Name: Freenode
Address:  chat.freenode.net
Port: 6667
Rest is like I explained above.
iOS users(for iPod, iPad, iPhone)
There are few apps available in app store. TurboIRC  is completely free and Colloquy is fairly cheap, only 0.99$.
TurboIRC
Open app and press Connect. In available server list choose Freenode and press tools icon to open settings. Choose Edit. Fill in:
Nick: YourNick
Opt. Username: YourNick
Save changes. Next time you click on Freenode server it will connect you as YourNick. To join channels press Join on top left part of screen and fill in channels name. To join shadow era general channel type: #shadowera. For tournament channel type #tournament. From there on your choices are remembered so you only need to choose a channel from list of channels next time you log in.
To disconnect, choose Menu and from list of options click Disconnect.
In case Freenode is not on the list of servers you can add it. After pressing Connect, choose New Server and fill in:
Name:  Freenode
Address: chat.freenode.net
Port: 6667
Rest is like I explained above.
Colloquy
You can set your settings as follows: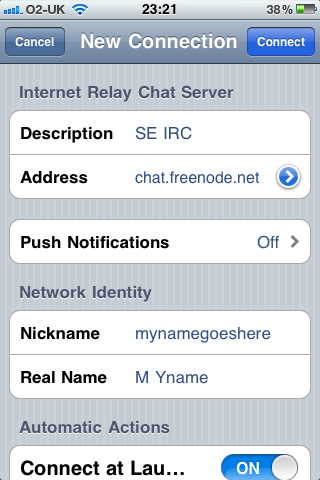 In automatic options  you can set to connect at launch and choose which rooms to join (Put #shadowera, #tournament)
Advance Settings contain your username, password, alt nicknames, etc.
Useful commands
Once there you can use some commands to change your nick or join another channel without going to settings (this will not change your default settings).
To join any channel type:
/j #ChannelName
To change your nick type:
/nick YourNewNick
Registering your nick
Registering your nick is important because you become unique on the server and other people can't impersonate you.
1. Log in with a desired nickname
2. Register your IRC nick:
/msg NickServ REGISTER YourPassword youremail@example.com
YourPassword should be secure, unguessable password that you keep secret.
3. Upon registering, you will receive an email with a verification command that you will need to run to complete the registration process. Copy-Paste it.
4. To keep your email address private, rather than displaying it publicly, mark it as hidden (which is done by default for new accounts):
/msg NickServ SET HIDEMAIL ON
5. Identify with Nickserv. Each time you connect, you should sign in, or "identify" yourself, using the following command:
/msg NickServ identify YourNick YourPassword
6. Set enforce on your nick to have NickServ force users to identify to the account within 30 seconds in order to continue to use it:
/msg NickServ SET ENFORCE ON