I apologize for the lack of content. I had a huge amount of writer's block and also some real life stuff I wanted to get over with first.  Without further ado.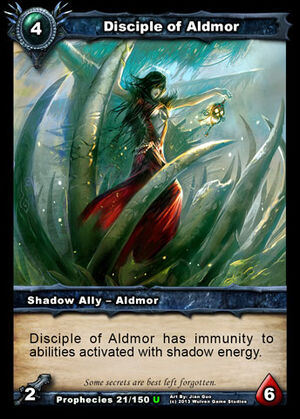 Disciple of Almdor
4cc
Shadow Ally – Almdor
2/6
Disciple of Aldmor has immunity to abilities activated with shadow energy.

Disciple of Almdor was the first ally released in the Almdor tribe, and was released back in Dark Prophecies. This bad girl sports a solid 6 health making her one of the more tougher allies to kill, with the additional of immunity to Shadow Energy based abilities. Her appearance in Sisyphos's World Championship winning Deck List also brought her back to the spotlight.